Open Day and for Agency Nurses in South Wales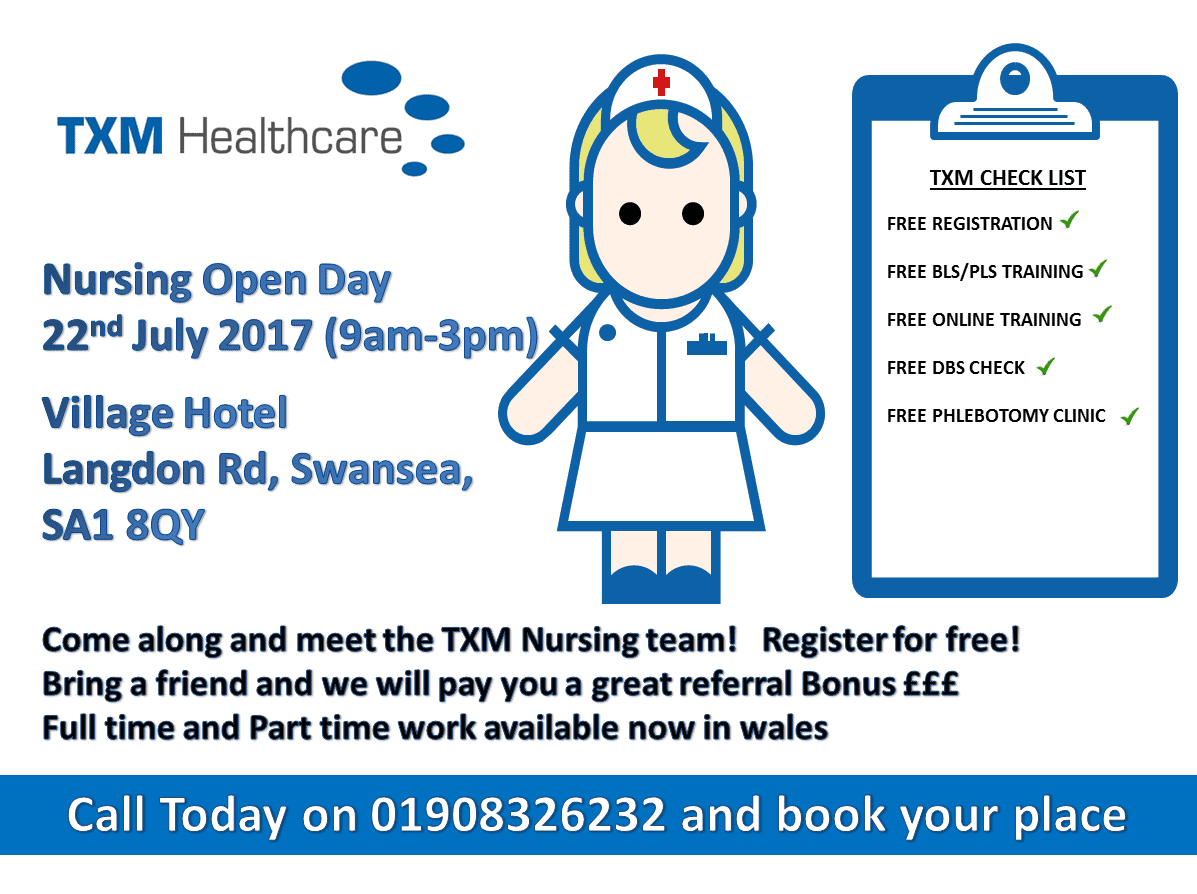 TXM Healthcare is proud to announce that we have been awarded onto the new Wales framework. 
TXM Healthcare is one of the leading healthcare recruitment agencies in the UK with a reputation for providing a quality of service. TXM always goes The Xtra Mile in making sure that we support all of our candidates from registration through to booking.
Attending the open day will allow you to become fully compliant within one day. All positions we will be able to book you in once all compliance documents has been submitted in.
This is what you need to do is come to our open day and register with the team to secure a fantastic opportunity to work in Wales.
Open Day Event
Saturday 22nd July – 9.00am-15.00pm
Village Hotel
Address: Langdon Rd, Swansea SA1 8QY
TXM Open day benefits
• Free DBS check
• Full registration
• phlebotomy clinic
• Full Basic Life Support & Paediatric Life Support training. (CPD Points)
• Online Mandatory Training (CPD Points)
Once full registration has been completed. All training completed on the day will be provided with there training certificates.

We are currently recruiting in Wales for the following positions:
• Band 5 RN Medical Wards
• Band 5 RN Surgical Wards
• Band 5 RN Care of the elderly
• Band 5 RN Care Homes
• Band 5 RN Critical Care Nurses (ITU, A&E, Theatres)
• Band 5 RMN
• Band 6 Midwife
All of the following positions will be from ADHOC shifts minimum of 1 shift per week to
Block bookings from 1 month to 3 months.

All shifts will be on the following rota's :
• Night Rota – 19.30-07.30 – Maximum of 6 nights per week
• Day Rota – 07.30-19.30 –  Maximum of 6 days per week
Competitive pay rates.
For further information on how to register for the open day please call the team on call 01908326232 or email john.pardoe@txmhealthcare.co.uk to secure a place on the open day.