Revalidation
The amendments to the medical act 1983 brought in the requirement for all doctors to hold a license to practice. All doctors with full GMC registration were issued with a licence to practice on the 16th November 2009. The licence to practise was introduced the first step towards the introduction of revalidation.
Revalidation commenced on December 3rd 2012 when the Licence to Practise and Revalidation regulations came into legal force. Meeting the requirements of Enhanced Appraisal is a major administrative task, requiring hundreds of hours of time annually, time that is often not accounted, allowed for or fully supported in doctor's job plans.
TXM Healthcare's approach in collaboration with Medsu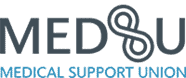 Put simply, we provide structure resource and process to empower doctors working in any setting, and enable them to manage their professional lives and meet their regulatory and compliance requirements.
Our independent Appraisal process is robust and adheres to the GMC requirements in GMP for Appraisal and Revalidation. Our process management is meticulous and designed to ensure that you stay on track for Revalidation leading to Relicensing and Recertification.
The Appraisal management process is responsive and will identify progress issues at an early stage ensuring that they are resolved do not become problematic.
The Medical Support Union has growing number of experienced consultant appraisers form different medical and surgical specialties. Our members can chose to be appraised by an appraiser from their own speciality background.
Consistency and continuity are essential components of a successful approach to dealing with regulatory and compliance demands.
The Medical Support Unions Appraisers are available to provide annual appraisal meetings or to meet with Appraisees on a more frequent basis throughout the year, as desired or indicated by Appraisees appraisal plans.
Our innovative technology and administrative services make for an optimally efficient approach, which alleviates doctors and organisation from the burden of mundane process tasks.
Doctors working outside of NHS contracts of employment may find difficulty in accessing an Enhanced Appraisal and Responsible Officer service that provides them with continuity across work settings and appropriate support through the process. Doctors with portfolio careers or those who work in different geographic locations will suffer lack of continuity.
By contrast the Medical Support Union provides across work settings, irrespective of geographic location. We can offer total continuity to the locum or independent doctor with a portfolio career.
To further discuss please contact our revalidation team on T: 01908 326 400.